PAINTMANAGER® Reporting
For managers with little time to spare, there are so many aspects of a modern bodyshop operation to review, that it's sometimes difficult to know where to start when you want to improve your business performance. To offer support in this area, PPG's Paint Manager Reporting solutions helps you measure, manage and monitor your bodyshop.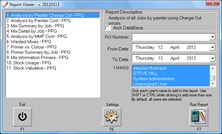 Understanding performance is key to being able to drive improvement and Reporting is key to understanding existing performance.
PPG's PaintManager IT System provides data and information enabling any bodyshop business to measure and monitor profitability on paint in addition to painter paint material efficiency. In addition to accurately measuring and being able to allocate paint usage to job numbers, the system identifies paint stock held to the milliliter. This data coupled with exact usage information means paint stock levels can easily be set to optimums level for the individual bodyshop.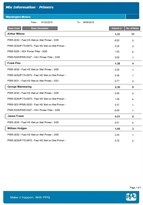 The types of reports available can be placed into 3 categories:
Costing which includes Job Costing, Average Cost & Average Mix by Motor Manufacturer
Painter Efficiency which includes Analysis by Painter, Mix Accuracy & Wastage, Bad Mixes & Mix Information
Stock Control which includes Stock Usage & Stock Valuation
All reports can be tailored by selection criteria by job number/range, date/range or by painter / range. Additionally all reports are available to be printed in both hard and an easy to use electronic format.
PPG PaintManager is able to deliver reporting information to help understand existing performance and therefore help to improve any Bodyshop's performance.
PAINTMANAGER® is a registered Trademark of PPG Industries Ohio, Inc.